Lawnmower Battle Green works vs Ryobi
Many gardening professionals and home lawn enthusiasts are always finding the best lawnmower in the market. Due to technology and competitive marketing, there are different kinds and specifications available, and choosing among the best ones is quite difficult.
Similarly, every season many people try to upgrade or change their lawnmowers and they are also comparing different mowers' specifications, in terms of price, design, and other aspects. In this article, I will compare and discuss Green works vs Ryobi lawn mowers. Which mower will give you the best cut? Which mower is best to buy? I give you an honest review based on my own experience. The choice is yours. Both companies are famous and have a good reputation in the lawnmower industry and there are thousands of happy customers of both of the companies.
The final choice is yours and I hope this article provides you with sufficient information to buy any of the lawnmowers which are ultimately best suited for your lawn/yard.
MAJOR COMPARISON HIGHLIGHTS GREENWORK VS RYOBI
In below chart, I provide you the basic information about both companies lawnmowers:
| | | |
| --- | --- | --- |
| Feature | GREENWORKS Lawnmower | Ryobi Lawnmower |
| Cutting Power | Powerful electric and Gas option, up to 80V battery power | Ryobi also offers both electric and gas options, battery power is up to 40V |
| Durability | Durable steel deck and high-quality material used in manufacturing | In Ryobi plastic deck is used with high-quality materials |
| Ease of Use | GREENWORKS manufactures lightweight and easy to maneuver, lawnmowers and a few models come up with foldable handles | Ryobi mowers are also lightweight with foldable handles |
| Cutting Width | The cutting width is up to 21 Inches | Up to 20 Inches |
| Cutting Height Positions | Adjustable cutting height, up to 7 Positions | In Ryobi Adjustable cutting height of up to 6 Positions |
| Price Bracket | $150 to $500 USD | $150 to $400 USD |
GREENWORKS VS RYOBI: DESIGN THE FIRST THING TO NOTE:
When it comes to comparison the first thing people note is the difference in design. People are curious about the design, everyone want a futuristic design so the major difference between both companies' lawnmower are as follows:
GREENWORKS and Ryobi provide both electric and gas-powered lawn mowers, but the design of the electric lawn mower provided by GREENWORKS is quite futuristic as compared to Ryobi. On the other hand, the Gas-powered lawnmower of Ryobi company is slightly better in terms of design as compared to GREENWORKS
the second design difference is the cutting width. GREENWORKS mowers typically have a larger width (21 Inches) as compared to the Ryobi which is up to 20 Inches. You can find the 1-inch difference in both mowers

The third major difference is the cutting height. In this option, Green works provides more positions than Ryobi
Another important difference is the deck provided by both companies. GREENWORKS deck is made of steel on the other hand Ryobi mower deck is made up of durable plastic which is lightweight.
The price bracket of the GREENWORKS mower is slightly higher than Ryobi lawn mowers.
GREENWORKS VS RYOBI: IN TERMS OF FEATURES
When it comes to the features both companies are trying to provide the best option and due to competition in the market, every company tries to provide the best option available so that the product sale is increased. The feature are varies according to the model and price but the summarized data is as follows:
| | | |
| --- | --- | --- |
| Feature | GREENWORKS Lawnmowers | Ryobi Mowers |
| Self- Propelled | offer a self-propelled option | offer a self-propelled option |
| Adjustable Handle Height | Both companies offer a self-propelled option and it depends upon the model which you are going to buy | – |
| Smart Cut Technology | In Some models, GREENWORKS provides smart-cut technology | Ryobi mowers do not contain smart-cut technology |
| Load Sensing Technology | Not Provided | Provided |
| Dual Battery Port | Provided by GREENWORKS in some models | Not provided in any model of Ryobi |
| Bluetooth connectivity | Not provided by GREENWORKS | Ryobi provides Bluetooth connectivity in some models |
GREENWORKS VS RYOBI: IN TERMS OF BATTERY:
The most important factor while comparing both companies are the battery specs of lawnmowers. Today everyone wants to buy electric mowers because of their efficiency, low maintenance cost, and without noise features. The battery of these mowers is the most important component therefore everyone wants a lawnmower that provides long run time. The battery comparison is as follows:
| | | |
| --- | --- | --- |
| Feature | GREENWORKS Mowers | Ryobi lawnmowers |
| Lithium Ion Battery | Both companies uses lithium-ion batteries which are the latest technology available in the market | – |
| Battery Voltages | Battery voltages range between 24 Volt to 80 Volts | 18 Volts to 40 Volts |
| Battery Capacity | Ranges between 2 AH to 6AH | Similarly Ryobi battery capacity also ranges between 2AH to 6AH |
| Dual Battery Port | GREENWORKS provide dual battery port in some models which allow extended runtime | Not provided by Ryobi |
| Load Sensing Technology | Not provided by GREENWORKS | Ryobi provide Load Sensing Technology which means power output based on the thickness of the grass you are mowing |
FINAL THOUGHTS:
In conclusion, when it comes to choosing between GREENWORKS and Ryobi lawnmowers, both companies have their own unique features and advantages. The decision for buying any of the mowers purely depends upon the user's requirements. GREENWORKS offers a powerful cutting performance with a durable steel deck and advanced features like smart cut technology and a dual battery port. On the other hand, Ryobi provides a lightweight and easy to maneuver design with options for both electric and gas-powered lawnmowers and load-sensing technology which is very good and increases the runtime of your battery.
Finally, the best lawnmower for you is the one that will provide the most efficient and effective cut for your lawn or yard with ease.
Frequently Ask Questions (FAQs)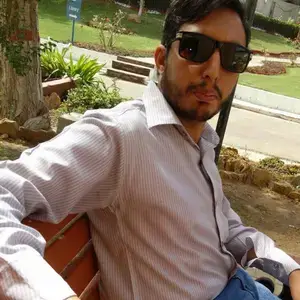 About Naveed A Hashmi
In my childhood, I used to see my parents while working in the land, for these reasons today I have been serving the same as our own tradition and culture. I thus love to stay in it, because I want to learn something advanced and new so that I may improve my farm's contour and help others with my experience.