Best lawnmower blades for all terrains
Wet grass is a big problem for many homeowners. With the changing seasons, mowing a lawn is challenging because the grass behaves differently every season. Similarly, wet grass makes mowing difficult and also harmful to lawn mower blades. Nowadays, there is a variety of mower blades available that are specifically designed for wet grass. From sharp blades to high-end blades.
At first glance, it seems like all lawnmower blades are the same. But, in reality, the blades are different same, like the mower type. These blades are made from materials like stainless steel, which provide a durable and reliable cutting edge. Additionally, some blades are designed in an aerodynamic style which helps in reducing clogs and improving efficiency.
By changing blades, you can easily cope with your lawn's wet grass; you do not need to change the mower. In this article, I review a few blades which are best for all terrains and seasons. Read and learn more about the best blades for wet grass and the proper use of these blades.
Best blades for mulching and bagging
The first segment I reviewed is the mulching and bagging blades. I tried the best blades in this segment and reviewed them for you. Some blades are good at prompting airflow. Similarly, some blades have teeth which separate the grass while entering the bag.
ROTARY BLADES
Many lawn mowers come with building rotary blades. They are designed to efficiently cut grass and other foliage in an excellent manner, providing for an aesthetically pleasing law. A motor powers rotary blades, and these blades work in high speed. Due to high motor power, these blades quickly and accurately cut grass and other weeds. Additionally, these blades can also mulch the grass, which helps to fertilize the lawn naturally.
Pros and cons
Pros
Improved Cutting power
Efficiency
Versatility
Cons
Expensive
Noisy Blades
High Maintenance
MAX POWER 21 INCHES MULCHING MOWER BLADE
Mowing the lawn is necessary for many homeowners, and getting the best results is the wish of everyone. With the MAX-POWER 21-Inch Universal mulching mower blade, you can achieve an efficient, clean cutting of your lawn grass.
This blade is designed to fit over five points and mounted with the shafts so it can be used with any mower with a 21-inch deck. It is worth buying for any mower. The blade has teeth designed and has a steep lift best used for mulching. The company provides all the fitting and installs it with your mower. The blade is 4 inches wide.
Pros and cons
Pros
Superior Mulching Performance
Adjustable Cutting height
Wide Cutting height
Cons
Durability Issues
Limited Cutting range
Without bagging option
BEST LAWNMOWER BLADES FOR THICK GRASS
Grasses like Bermuda or St. Augustine can be visually stunning, but these grasses are thick and trouble you because your ordinary lawn mower won't mow this type of grass perfectly. You need to change the mower, or you have to invest in new blades. In the market, different types of blades are available for thicker grasses. You need to research which blade is suitable for your mower.
MAX POWER 561713 X BLADE
When it comes to mowing the thick grass of your lawn, every mower does not work on thick grass. Either you need to change your mower's blades or another lawnmower. MaxPower 561713X blades are designed to mow thick grass and solution of your problem. The MaxPower 561713 X blade are designed for various mowers, including Craftsman, Husqvarna and Poulan. The 2.5 Inch wide blades feature a five-point start mount which is very easy to install. The blade is capable of mowing your thick grass and uneven ground efficiently. For optimal performance, once you receive your blade, you sharpen it and start using it with your mower. Additionally, it is better to sharpen the blades twice a year for better performance.
Pros and cons
Pros
Powerful cutting
Long lasting blade
Easy to Install
Cons
Expensive to buy
Not fitted with all mowers
Lack Versatility
BEST BLADE FOR STRIPING
To achieve an excellent and extraordinary look on your lawn, you need to add striping while mowing your lawn. It is not difficult as you may think; you need a proper blade.
STENS 340 178 HIGH LIFT BLADE
The STENS 340 178 HIGH LIFT BLADE is ideal for larger lawns. These reliable blades come in sets of two with high efficiency. Blades are 21 Inches long, 2.25 inches wide and 0.14 inches thick, guaranteeing long-lasting performance. They are cost effective.
Before buying must check the fitting of your lawnmower. Generally compatible with Craftsman and Husqvarna brands, these blades are perfect for use with lawnmower tractors.
Pros and cons
Pros
High lift capability
Durable blades
Designed for Riding Lawn mower
Cons
Expensive to buy
Compatibility issues
Not ideal for tall grass
EGO Power+ AB2101 High Lift Mower Blade
The EGO Power+ AB2101 High Lift Mower Blade is a 21-Inch, high-lift steel blade designed for use with EGO Power mowers but compatible with other brands that match its size specifications. The blade material is resistant to rusting and will help you achieve a striped look on your lawn. You need to sharpen the blade twice a year for better performance.
Pros and cons
Pros
Made of High Quality Carbon Steel
Designed to cut grass up to 1.5 Inches
Resistant to rust and corrosion
Easy to sharp
Cons
Not compatible with every mower
Not suitable for cutting thick and wet grass
Costly Blade
Heavy in weight
BEST LOW LIFT LAWNMOWER BLADES
Every day you face a new challenge when you are mowing your lawn. The mowing task is more difficult if you are trimming your sandy soil. Many people are struggling with their dust and sandy property. For this purpose, you need a low-life blade. Low-lift blades provide lower suction power and fewer curved edges than standard blades, preventing dirt and debris from blowing into the air, and you can trim your lawn effectively.
8TEN LAWN RAZOR LOW-LIFT BLADE
For those who are looking for a reliable and robust replacement lawn mower blade, then 8TEN LAWN RAZOR blades are the first choice for you. These blades are designed to be compatible with most major lawn mower brands.
8TEN lawn RAZOR blade is made up of steel and bright green powder coating, which is best for the protection of the blade. Five-point star center hole fitting makes it easy to install. The company sharpens the blade, and you do not need to resharpen it while using it for the first time. The blade comes in a set of two, which are great for domestic and commercial use and offer a superior cutting experience.
Pros
Wide cutting Width of 21 Inches
Made of High Quality Steel
It helps in preventing Scalping
Excellent Cutting Results
Cons
Slightly Expensive
Not suited for small lawns
Not easy to install
USA MOWER LOW LIFT SAND BLADES
USA Mower blades are 2.25 inches wide and 0.187 Inches thick Low lift blades are ideal for sandy soil. The five-point star center mounting makes them compatible with several mower brands and very easy to install on a mower. The low lift feature enables less power to operate and create low noise. The blades are an excellent solution for sand and dusty terrain.
Pros and cons
Pros
Easily cut thick grass and weeds
Last longer blades
Futuristic Design
Cons
Use with powerful mowers
Need more maintenance
Cost expensive
FINAL THOUGHTs:
To conclude, the right type of lawnmower blade is essential for creating a lush and beautiful lawn. It is important to understand the different blade types available in the market. You can choose one of the blades which are best suited for your lawn. I reviewed almost all type of blades, and I hope this will help you in resolving your mowing problem.
If you are using the correct blade, it will help you increase the lifespan of your mower. Additionally, your mowing outcome is excellent, and your lawn looks lush green and beautiful, which is soothing for everyone's eyes.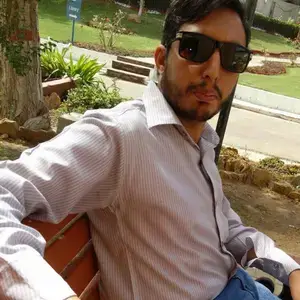 About Naveed A Hashmi
In my childhood, I used to see my parents while working in the land, for these reasons today I have been serving the same as our own tradition and culture. I thus love to stay in it, because I want to learn something advanced and new so that I may improve my farm's contour and help others with my experience.