Best Ways to Clean your lawnmower Deck
A lawnmower deck, also known as a mower deck or cutting deck is an essential part of a lawnmower that holds the blades and is responsible for cutting the grass. This essential component plays an important role in the cutting of grass. If your mower deck is not cleaned, the mowing quality is not up to mark.
So,
In this blog, I will provide you with all the necessary information and guide you regarding the Cleaning of lawn mower decks. Provide you with the best ways to perform this task easily on your own. I tried to write the simple steps that you follow easily and which resultantly clean your deck.
Why Cleaning Your Lawn Mower Deck is Important?
The lawnmower deck holds the blades and cuts the grass efficiently. When you are using it continuously without cleaning the deck is filled with grass clippings, dirt, and debris which ultimately decreases the speed of moving blades, and your grass is not properly trimmed.

Additionally, if you are not cleaning the deck for a long time, the rust can ruin the deck, the life of your lawnmower life is decreased and different parts are damaged due to rust in the body.
Step-by-Step Guide for Cleaning Lawn Mower Deck
Step 1: In the first step you must ensure safety. Properly turn off the mower supply and remove the spark plug if you are convenient. Similarly, park the mower in a straight place where the mower is completely balanced. Uneven places might disturb your work.
Step 2: Now tilt the lawnmower on its side for easy access to the deck. Be careful not to tilt the carburetor to avoid oil leakage..
Step 3: In the third step start removing the debris using a wire brush, and gently scrape away the grass clippings, dirt, and stuck-on debris. Do not work in a hurry, gently remove all the dirt below the deck.
Step 4: In this step use water and wash it thoroughly. Do not leave any space without cleaning. Give a complete shower but be careful to avoid water going inside the electrical wires in case of riding a lawnmower.
Step 5: In this last and final step you can't wait until it is completely dry. Now you can put it back in the straight position. To protect from rust apply a coat of silicon spray. This helps you prevent rust for a longer time.
FREQUENTLY ASK QUESTIONS (FAQs)
Conclusion
I will make it easy for you in simple five steps for cleaning your deck. I have noticed that people have not cleaned mower decks for months and years. The rust can cover the deck area and damage the mower body.

The above-written steps provide you with the best ways to clean the lawn mower deck on your own without any hurdles. If you have any queries feel free to email us.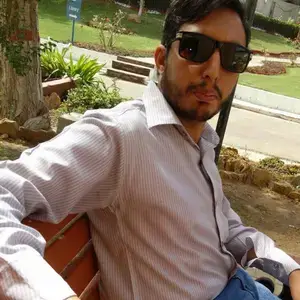 About Naveed A Hashmi
In my childhood, I used to see my parents while working in the land, for these reasons today I have been serving the same as our own tradition and culture. I thus love to stay in it, because I want to learn something advanced and new so that I may improve my farm's contour and help others with my experience.